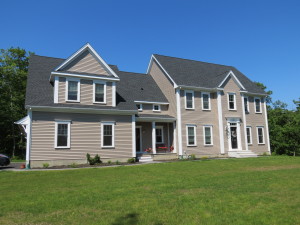 JR Design & Build has been building homes in Reading, MA for over 20 years and have an outstanding team of architects, designers, suppliers and tradesmen that have worked together for many years.
We are well known for providing the highest quality craftsmanship, performance, value and service. As quality home builders, we take pride in designing and building homes as well as nurturing long lasting relationships with our clients.
Our dedicated team of local professionals is ready to build your new home or renovation of your dreams in Reading, MA. As your general contractor, your satisfaction is our priority, so we will make sure you are just as proud of your new home as we are.
Custom Home Building and Remodeling
While each home is different, so is the process for building and remodeling each custom home. We enjoy the process and especially understand that each homeowner has different needs.  Those needs must be carefully considered when reviewing the architectural drawings.
Remodeling
Whether you are thinking of an addition or renovation means making a home more livable for your family while increasing its market value. As lifestyles have changed, so have living spaces, and creating open and flowing floor plans make it easier for families to share time together.
Additions
A well-planned home addition will pay for itself time and time again. Boost your home's value and extend its square footage with an impactful home addition.  Maximize your investment by selecting the perfect materials and details to enhance your home's value and character.
Bathrooms
Let us make your dreams come true. If you're asking yourself how, then consider having your bathroom remodeled by us.  We can have your bathroom built in no time. Just pick up the phone and take the first step.
You'll be glad you did!
Kitchens
Let us help you custom design the kitchen of your dreams. From granite or marble countertops and all wood cabinetry to tile or hardwood flooring and an extensive selection of lighting fixtures, we have everything you need to make your kitchen a reflection of who you are.
Windows
Whether you are looking to upgrade a few drafty windows or replace all the windows in your home with new energy efficient vinyl replacement windows, JR Design & Build can help you choose the best options and install replacement windows quickly and professionally.
Roofing
We have an expert team of roofers waiting to get started on our next job. Many homes in our service area have roofs that are well past their prime and in need of care. We can help you with everything from offering advice when you choose the materials for your new roof to scheduling yearly appointments to keep it clean.
Specialty Services
---
 Water Damage
Water, heaters, burst pipes, flooding or ice dams.
Fire Rehab
Whether its a full overhaul or minor damage, just call and we will put your home back better than it was and work directly with adjusters and insurance companies.